By
Ricardo Arambarri
|
Wednesday, October 29th, 2014
It has been four years since a question had been ringing in my ears. It was at Alimentaria 2010, with Vintae causing a stir; we had put up a stand that looked like a wine bar. We wanted to leave behind the old vinyl, bright, gaudy lights and slogans, and we wanted to create a space of visual peace, good vibes and friendliness. We simply put up a big blackboard as a backdrop, decorated it with chalk and included an L-shaped bar counter, and we had the entire Vintae team serving wine left and right. If you add our partners, customers and friends to all that, it turned out to be the best bar in the trade fair!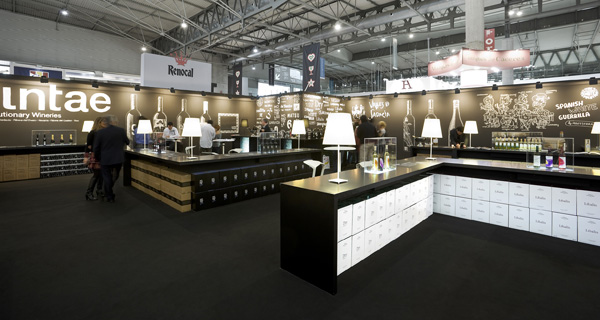 At that time, our customers, after enjoying the show, asked us, "Why doesn't Vintae open a wine bar/restaurant?"
It sounded crazy, OK, fun too, but too crazy for Vintae, which at that moment in time, in 2010, it was fighting to move forward and become known. In spite of all that, this question remained embedded in our heads, and it would never leave us. A few weeks later, a friend and customer of ours, Elju, said that he wanted to use our idea. He had 3 restaurants in Nagoya, Japan; he wanted to open a fourth; and he was looking for a theme. He liked our wines, our aesthetics, and our casual style; so, why not create a Vintae Wine Bar? Obviously, our response was a resounding YES, and we were more than happy to have a Vintae Wine Bar in the world, but our own customers were anticipating us!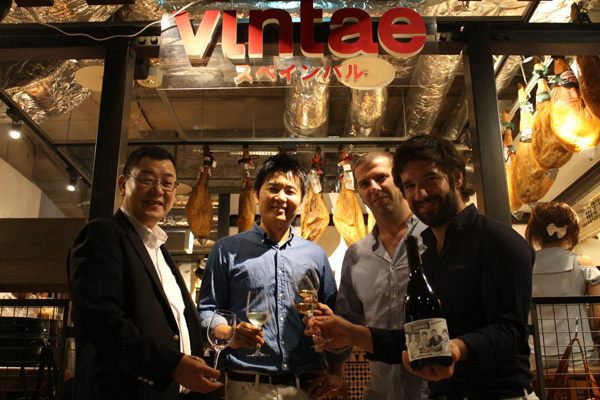 At that moment, that question found its answer and our brains started to work on making the dream a reality: creating a Wine Bar with our essence.
We quickly found fellow travellers for this adventure, our friends Albert, Gerard and Oriol, and they became part of the project: destination Barcelona. Trips to Barcelona, to La Rioja, searching for property, working with designers, etc.
However, reality hit our excitement hard, and that project did not fructify.
During a dinner, at our favourite restaurant in Logroño, Marinée, we encountered a new possible path. Our friends Aitor Esnal and Beatriz Martínez, after having built Marinée from scrap, were also hunting for new projects. I must say, we couldn't have found better fellow travellers, because we agreed on each of the values that we wanted to instil in the restaurant. The idea was a market cuisine where the product in itself would be the star: original wines presented in a more human and fun way, a unique establishment in Logroño… And, we put our hands to work.
The location was easy; the ground floor of our offices in the centre of Logroño would be the ideal place. The old cafeteria Grand Hotel, which had been frequented by bullfighters, football players and celebrities of the time, had no activity for years and they were asking us to wrack our brains and create something new.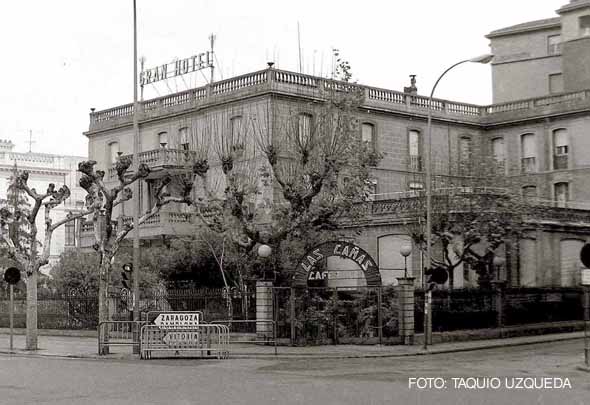 So, Wine Fandango Logroño was on its way!
In June 2013, my brother and I travelled to New York for five days and we had a look at around 20 to 25 establishments per day. We came back full of inspiration. This floor tile, that bar counter, this menu, that lamp, and we brought an endless number of ideas under our belt to work with Aitor and Bea. Then came in Lazaro Rosa-Violan, who is an enthusiast of Vintae wines; and we love his work. After having created places that we loved, such as Big Fish or Boca Grande, we wanted him to become involved 100% with the aim of making our dream a reality. It involved months of work and trips, designing the establishment, meetings with banks and institutions, business plans with changes and more changes, etc. The dream was slowly taking shape. It was a fabulous mix of passionate people, with a constant tug-of-war between Lázaro and his ideal design, Aitor and Bea providing their experience in the bar and restaurant business, the Vintae team contributing with their essence, the architects and engineers of Aransa (the company responsible for executing the works of Wine Fandango) imposing the complicated reality of regulations and what such complex works represent, etc., but when so many people with a same dream conspire together towards making it a reality, the result is guaranteed.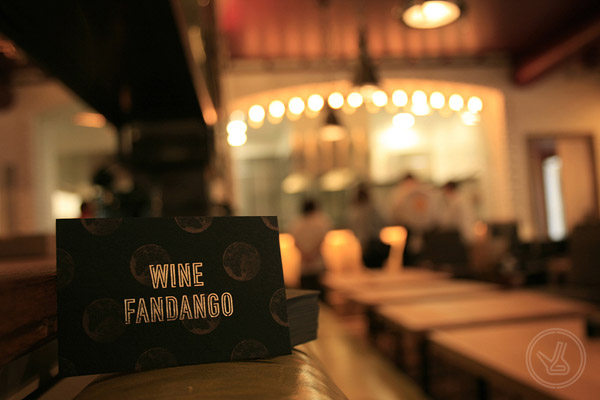 After a year and a half of work and 5 months of construction work: the bathroom taking ages (whenever you visit it, you'll understand why), choosing colour RAL 9001 or RAL 19XX, this piece of furniture not that one, this lamp not that one, etc., the end result is finally emerging. These days, we are applying the final touches to what will be our much-desired WINE FANDANGO for many years to come.
Sometimes dreams come true, but they require many people conspiring at the same time, and this is what happened in Wine Fandango. We have not walked this path on our own: Arturo, Moises, Jorge, Jose Miguel, Sergio, Santi, Rafa, Daniella, Raquel, Fernando, Tito, Llorenç, and a long list of other names, of people that have made this a reality, I and on behalf of Aitor, Bea and Josemi take the opportunity to thank you.
The best is yet to come: everything that happens between the four walls of Wine Fandango (and, of course, its terrace) and the moment in which you discover it.
Wine Fandango is incredible!
We are expecting you!
Vara de Rey, 5
Logroño
941243910
info@winefandango.com
On Facebook
On Twitter
@winefandango on Instagram