By
Ricardo Arambarri
|
Wednesday, April 22nd, 2015
ABOUT VINEYARDS, BODEGAS AND PEOPLE
As we told you in the previous chapter of this adventure, we were more than sure that we wanted to start a project oriented towards the soil and old vineyards, but there were still three main aspects that needed specifying: the vineyard, the bodega and the people.
In our return to Spain after that first trip, we decided that we wanted to help in this project. We needed to find a trustworthy oenologist that new the country and, most importantly, that was lively and felt like starting a project of these characteristics. It was easy; as soon as we told Pedro Balda about it, he jumped to the occasion.
The second trip was made at the end of February, days before the harvesting period. It was an ideal moment to do some fieldwork and try some grapes. Pedro started to contact people and he organised an incredible trip. A trip in which, in addition to learning about everything in further detail and choosing the vineyards that would produce our first wine, we met lovely people that accompanied us throughout the journey towards our first wines.
On our arrival in Santiago, we were received by John and we went directly to our first meeting: Bodegas Odfield. There we met Arnaud Hereu, a Frenchman with Catalan origins and a Chilean heart, who showed us the bodega. Small vats, fudres (large round wooden barrels), egg shaped cement deposits, professional people… it was a great place to make our first bottles of wine.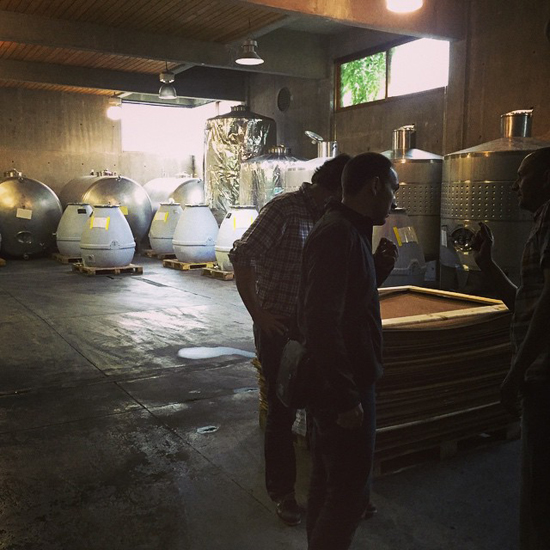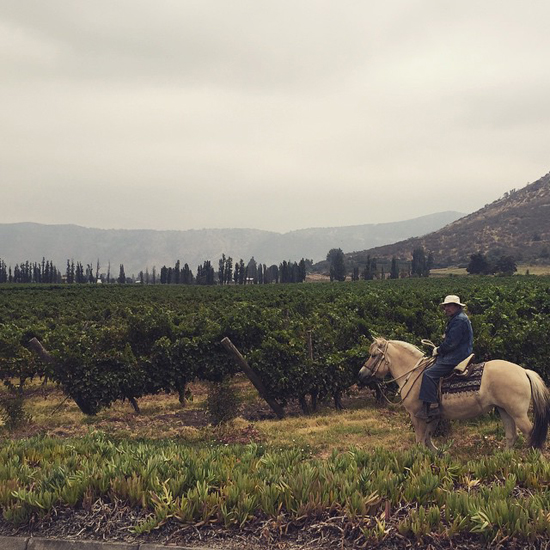 That night, after getting lost a few times in the roads of the area with many "down here, no, it's up there", we arrived at Santa Cruz to have dinner with Ignacio C√°ceres. Ignacio is a friend that Pedro met in one of his previous trips to Chile. In a Peruvian-cuisine style restaurant in Santa Cruz and surrounded by piscolas (a typical Chilean drink), John and I had the opportunity of getting to know Ignacio quietly. With an education in oenology, experience in several harvesting periods (some of them in Spanish bodegas) and especially, a great person, we hit the nail on the head and found a trustworthy person in our moments of absence, which is a key aspect when a project is thousands of miles from home.
However, that dinner came with a hidden a surprise, which was the first clue of what we were going to do. Ignacio brought a bottle of wine made by a small winemaker friend of his. A Cinsaut 2013 called Trifulca: one of the two thousand bottles, clearly made with love and especially in a very respectful way, of an elegant wine with a very peculiar style that really caught our attention. Although it was the furthest of our destinations, we could not leave without visiting Huariligue.
On the next day and after getting up very early, we got on our way to Colb√ļn. There was Philippo Pszczolkowski, an eminence of the Catholic University of Santiago de Chile, awaiting us in his small and charming house. A living legend of the Chilean viticulture, Philippo had not only located and recovered minority varieties in old Chilean vineyards, but was also responsible for bringing Jean Michel Boursiquot to Chile. Jean Michele is a French specialist in ampelography who discovered that a large part of the Chilean vineyard was not originally Merlot but Carmenere, a variety that originates from the southeast of France and that had practically disappeared in France after the phylloxera.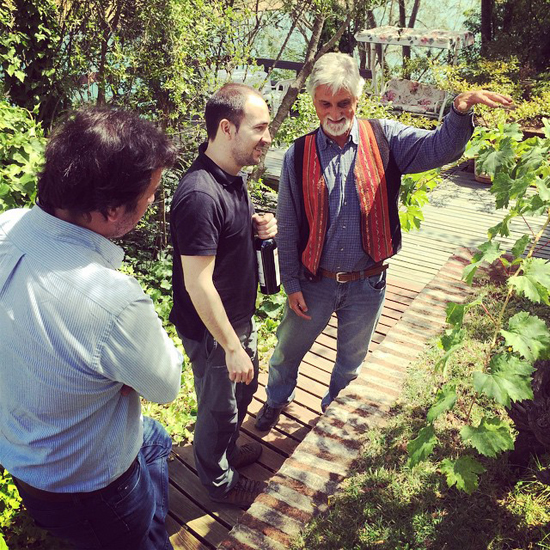 He and his wife treated us as if we were family, and we had a long and interesting conversation about the past, present and future of Chilean viticulture. Pure inspiration, just what we needed! There we discovered that the old Garnacha varieties (which were in our initial plans) were practically non-existent and most of them were young plantations.
In addition, we found out that the greatest concentration of young vineyards can be seen in the south (as we already suspected) and that the older ones are of the Pa√≠s variety (a vine that was brought by Spanish missionaries in the mid-19th century), followed by the Cari√Īena and Cinsault varieties. He gave us the contact of another person that would be essential in our project, Sergio Amigo, and before we had to leave, he showed us an interesting cave, which as we later were able to confirm was inspired by the caves of our neighbour village of La Rioja Briones, thanks to a visit that Philippo made there a couple of decades ago. There we enjoyed two vintages of his own personal project, Alta Alcurnia 2009 and 2010, with Carmenere as the main variety, made in a delicate way and seeking the soil'Äôs expression. Again, we were able to see how that philosophy was catching on in the Andean country.
In high spirits and with the mind full of ideas thanks to the inspiration received from the professor, we went direction Cauquenes: the heart of the old Cari√Īena vineyards.
What we discovered there is enough to fill a whole chapter, so stay alert!