#Weopenforgood, Vintae's campaign to support our pubs and bars
After several months of success in Spain for the campaign with the hashtag #abiertopornarices, it is now the turn of the international version #Weopenforgood which is aimed at helping premises with reopening after COVID-19 lockdown.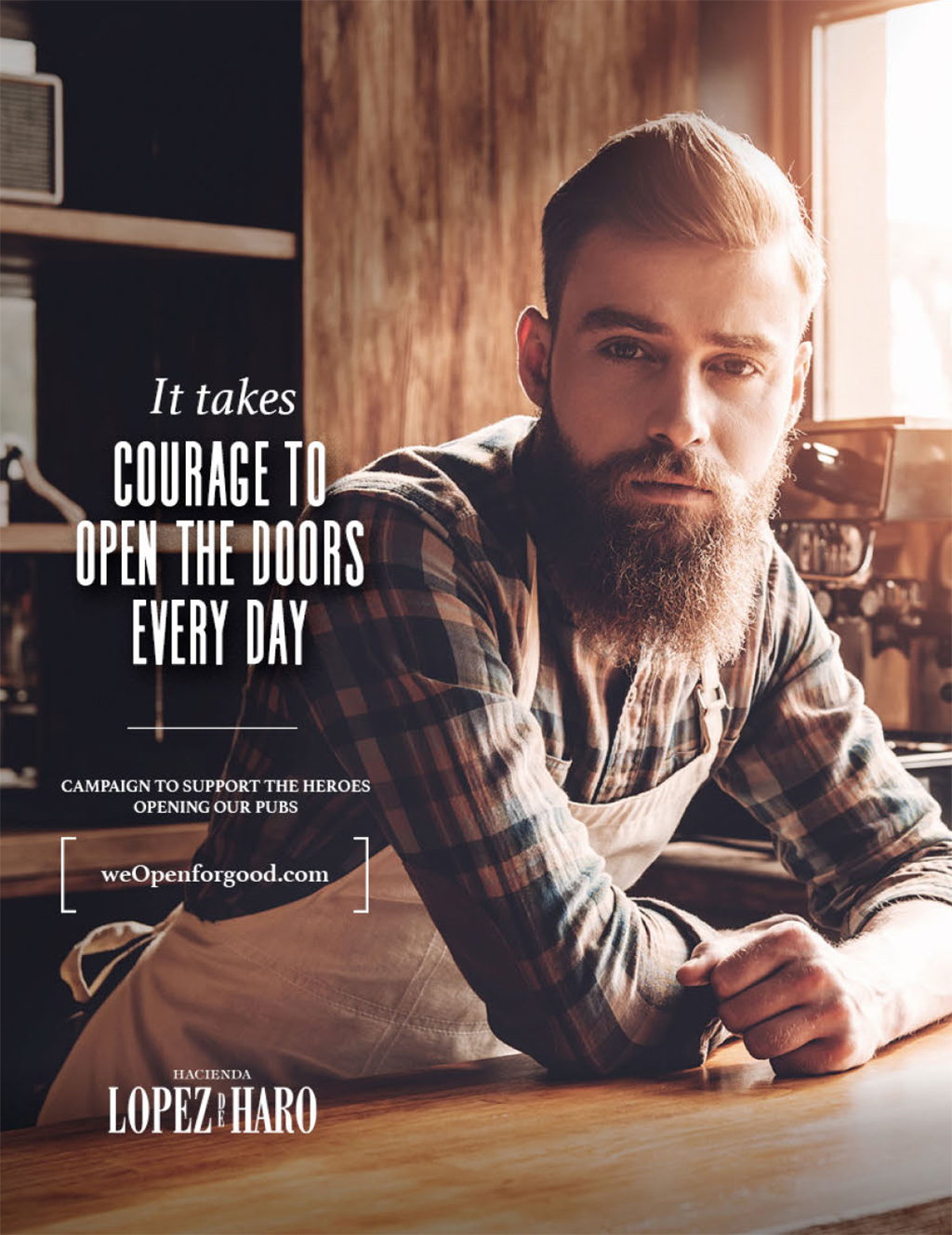 Vintae is going to invest a total of half a million euros in the campaign, which has already provided significant support for more than a thousand hospitality establishments in Spain who were forced to pull down the shutters for weeks, and who faced a very complicated reopening.
Using the hashtag #Abiertopornarices, Hacienda López de Haro launched a series of actions in May to encourage establishments to raise their shutters again and once more become part of people's day-to-day, attracting customers and encouraging them to have some wine in their bars and on their terraces. These actions which have taken place included distributing 15,000 free bottles of Hacienda López de Haro, printing 650,000 placemats with the menus of each bar or 250,000 disinfectant wipes for customer use, all of which have been provided for the establishments. Likewise, the winery has launched actions aimed at the end consumer, such as the promoting the premises through geolocation, discounts and personal gifts, set to last for a whole year.
These support actions have been complemented by others in the digital field, such as the launch of a video that has been widely received on social media, showing support by customers and wine enthusiasts, with well-known figures such as the writer from La Rioja Andrés Pascual, Aitana Rosón, the lockdown violinist, the singer Isaac Miguel or the rapper Princess Ramen.
Hotel and catering professionals themselves have been the key players in another of the digitally-focused actions under the hashtag #NuevaNormalidadDeSiempre (New Normal as good as ever). Hacienda López de Haro has filled its networks with positive messages using the image of anonymous hospitality professionals who have gained a digital presence by transmitting their experiences from behind the bar. This action has been a way of transmitting human stories and showing the sometimes hidden face of the waiters and waitresses of the Spanish hospitality industry. Furthermore, in Spain the second stage in now underway with Bodegas Bardos as the key players.
International experience in Canada and the Dominican Republic
In the same way as in Spain, the campaign has already been launched in Canada and the Dominican Republic. Through the Web https://weopenforgood.com/ bars and restaurants can join the community and get free products, such as disinfectant wipes for customers, table tops and blackboards to show their menus, as well as digital presence and visibility thanks to the advertising campaign on social networks with celebrities and influencers.