Our wines sweep the boards at the Decanter World Wine Awards with six more medals
In addition to being named Best in Show for the second year in a row, the highest category at the Decanter World Wine Awards, we received a sextet of Silver Medals (with scores ranging from 90 to 93 points) in this prestigious competition, in which a jury of more than 200 experts blind tasted over 18,000 wines.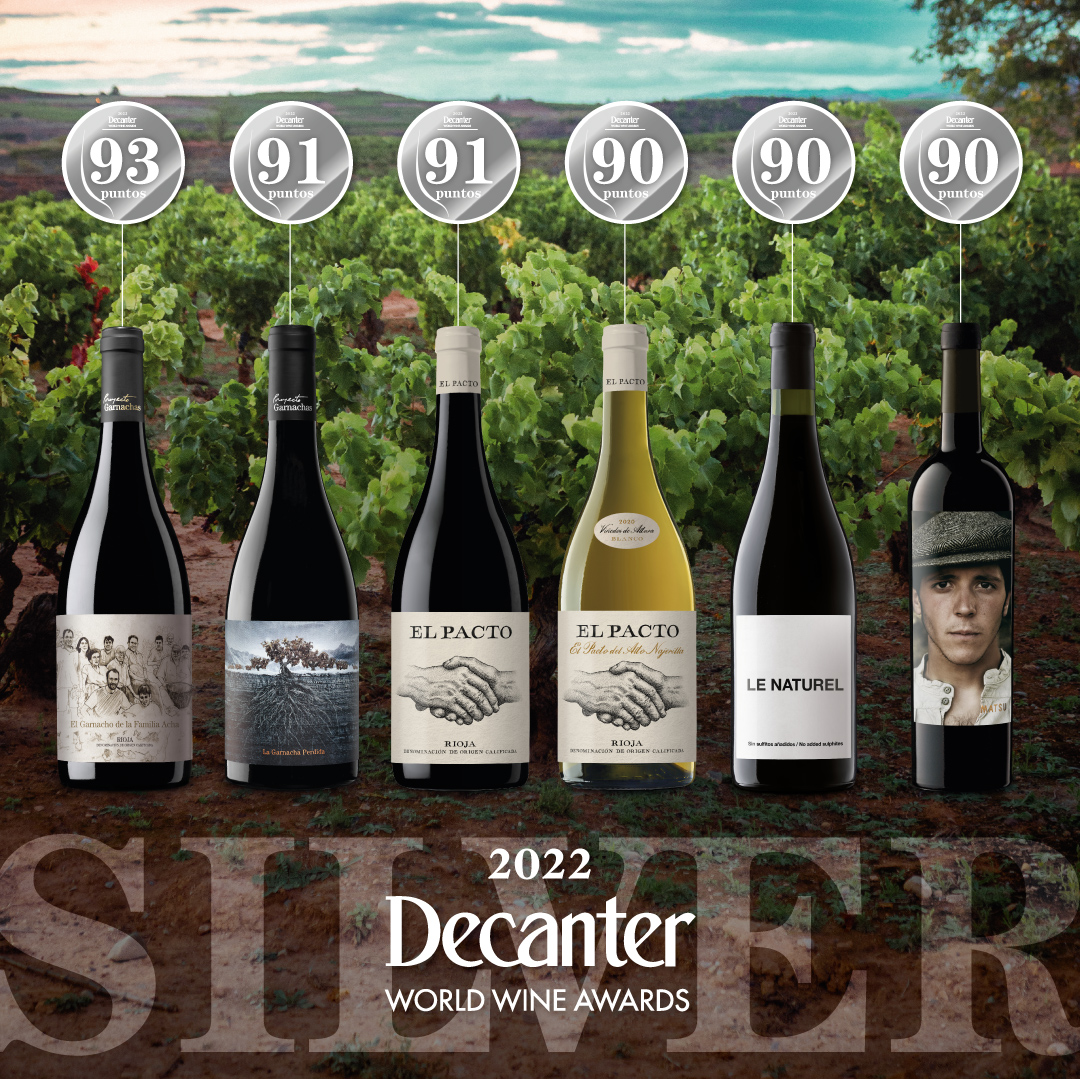 ­ The six medals are for quite diverse wines: Garnachas, Tempranillos and Viura, all of which we are very proud. All six perfectly illustrate what we want to convey through our projects: the remarkable authenticity and diversity of Spanish winemaking. With 93 points, the first silver is for El Garnacho Viejo de la Familia Acha for its 2016 vintage. A Garnacha from Alto Najerilla that combines the work of numerous generations of the Acha family in its centenary vineyards in Cárdenas. A family jewel. It is followed by another very exceptional Garnacha with 91 points and another silver: La Garnacha Perdida del Pirineo 2019. Uncastillo, home to an organic vineyard, with younger vines in a setting that is as unusual as it is full of character. Located a few kilometers as the crow flies from the Pyrenees and surrounded by woodland, this vineyard is the only one of its kind in the region. Likewise, 91 points and a silver medal were awarded to El Pacto Tinto 2019, a wine with all the personality of the Sonsierra and the character of ancestral viticulture that is governed by the rhythms of nature. Its white partner, El Pacto del Alto Najerilla 2020, also garnered the silver medal with 90 points. And with a further 90 points and a silver medal each, two exceptional wines round off this list: Le Naturel Tinto 2021, our first wine with minimal intervention and no added sulphites, continues to conquer wherever it goes thanks to its honesty, and El Pícaro 2021, the youngest of the Matsu family, a genuine and elegant reflection of Tinta de Toro. The Decanter World Wine Awards is one of the most prestigious wine competitions in the world, thanks to its blind tasting system and the caliber of the experts on its jury, which includes a large number of Masters of Wine and Master Sommeliers.