Excellent scores from James Suckling: Eight exceptional wines
This summer, the Hong Kong-based American wine critic James Suckling released several reports on the latest Spanish wines he had sampled, including several of Vintae's wines. Our references have achieved high ratings, with eight wines tasted and all scoring above 90 points.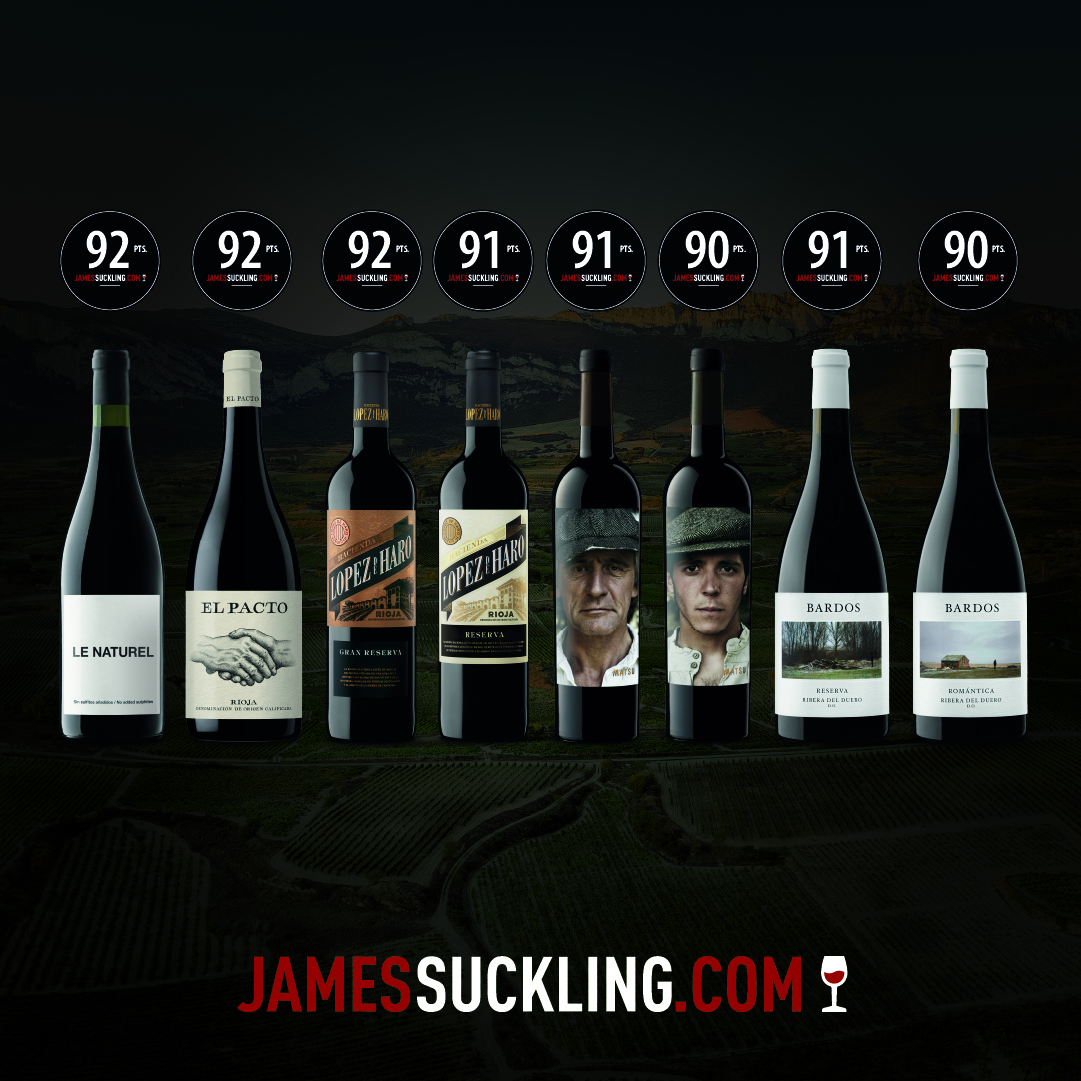 Suckling, expert taster, was particularly impressed by Le Naturel Tinto 2021, El Pacto de la Sonsierra 2019 and Hacienda López de Haro Gran Reserva 2012, with all three scoring 92 points. Despite being very different wines and styles, all three pleased the critic. As a result, 91 points were awarded to Hacienda López de Haro Reserve 2016, Matsu El Recio 2020 and Bardos Reserva 2018. And 90 points each to Matsu El Pícaro 2021 and Bardos Romántica 2020. Here is what he said about each of the wines.
Le Naturel 2021 · 92 points ­ "An attractive nose, with aromas or ripe blueberries and blackberries, light spices, cocoa and bark. Mellow and fruit-driven on the palate, with medium body and a creamy tannin structure. Polished and delicate with notes of minerals to close."
El Pacto · 92 points ­ "A focused nose of blackberries, blueberries and hints of sweet spice and stones here, following through to a juicy, medium-to full-bodied palate with a fresh and tight frame of tannins coating the vivid fruit core. Bright finish with good length."
­
Lopez de Haro Gran Reserva 2012 · 92 points ­ "Ripe cherries and currants on the nose, with lots of aromas of wet leaves, leather, nutshells and wet earth. Medium body with a firm, chalky tannin structure and vivid acidity, making it lively and attractive. Refined and balanced."
Lopez de Haro Reserva 2016 · 91 points ­ "This Reserva Rioja still shows primary-fruit character of plums and strawberries on the nose, together with hints of spice and dried orange peel. Medium body with fresh red berries and plums, rounded by silky but fresh tannins."
El Recio 2020 · 91 points ­ "Spiced plums, dark cherries and blueberries on the nose, together with hints of sweet spice and vanilla, following through to a medium-bodied palate with a firm but silky wrap of tannins. An elegant and fresh-toned Toro."­
El Picaro 2021 · 90 points ­ "Aromas of cherries, pomegranate, rose petals, light spices and wet soil. Ripe and fruity with medium to full body, round tannins and a creamy texture. Straightforward and easy to drink, with a fruity finish."
Bardos Reserva 2018 · 91 points ­ "Aromas of blackcurrants and black cherries with hints of spices, cured meat, dried herbs and walnuts. Medium-bodied with firm, powdery tannins and a velvety texture. Fruit-oriented character with savory notes and a flavorful finish."
Bardos Romántica 2020 · 90 points
"This shows ripe notes of spiced dark fruit, dark chocolate, black olives and wet stones. Lively and juicy on the palate, with medium to full body, chewy tannins and tangy acidity. Vivid fruit character and a lingering finish."